Pam Di Ruggiero 's BIO
1-800-GROOMER / TAILS A WAGON: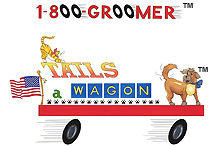 Pam Di Ruggiero entered the grooming industry in 1990, starting at a local pet grooming shop. Pam quickly worked up to grooming room manager. Pam operated a pet grooming pick up and delivery service. Pam then pursued traveling grooming, carrying her equipment and setting up in the pet owner's home or business. This original concept was presented by Pam at GROOM EXPO Hershey, PA and turned into a full time career. This allowed Pam to buy her first truck and start her own Cat and Dog grooming business, 1-800-GROOMER / Tails A Wagon in Short Hills, NJ. Pam is also the co-founder and co-owner of 1-800-GROOMER, LLC and Co founder of the Professional Mobile Groomers International (PMGI), both created to educate mobile groomers, traveling groomers and shop groomers, to promote excellence in pet care, provide world class customer service to, consumers and pet owners, community, industry and consumerism.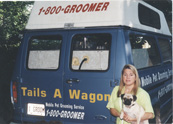 Pam received PMGI's Groomer of the Year Award and has been featured in Pet Age Magazine, Pet Product News, Groomer To Groomer Magazine. Pam was also a staff writer with her own mobile grooming column on petgroomer.com as well as being featured on Talk America National Radio Program as well as being featured on Comcast Cable Television and is also featured on WCBS FM Radio 101.1 in New York City (wcbsfm.radio.com), educating the consumer and pet owners on Mobile pet grooming and the Morris County Daily Record's "Women on the Go" section.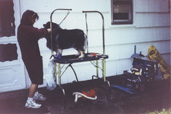 Pam launched the only U.S. and Canada Mobile Pet Grooming industry phone consultation service, at 1-866-ADVISING and created, founded and owns the "Mobile Grooming Success Seminar™" (www.mobilegroomingsuccessseminar.com) to educate mobile pet groomers. Pam has also volunteered at SPCA of Hancock County Maine on the Bar Harbor Road, Trenton, Maine. Pam offered complete grooming for cats and dogs at the SPCA facility. Pam also contributes to the success of the Susan G Komen Cancer Foundation, annual Pink Tie Ball fundraising event, by donating her pet grooming services.

KOMENNORTHJERSEY.ORG, Pam has also been a judge and speaker at Groom Expo in Hershey, PA and Intergroom in Secaucus, NJ. Pam is also a Breeder of Pug Dogs, "Blueberry Mist Pugs" (1-800-BREEDER), is a member of The Pug Dog Club Of America (PDCA), and owner of EMMA'S MUD PIES™ - "bite-sized whoopie pies for dogs"℠ "The way treats should be"℠ (emmasmudpies.com). Pam also owns the domain pugbreeder.com. An educator and consultant for the pet grooming industry. Pam brings, Excellence in Pet Grooming, Excellence in the care of the pet in a low stress environment. Pam, plus delivers, World Class Customer Service.

Pam can be reached at 1 - 866 - PET LOVER;
via fax at 1-888-672-3774;
via e-mail at pam@1800groomer.com ;
on the web at www.tailsawagon.com ;
and via U.S. mail
at 784 Morris Turnpike #195, Short Hills, NJ 07078